On the afternoon of October 25, my sister Eva and I flew to Tokyo Narita from Sapporo, basically on time. Right about the time when we were supposed to land, the head flight attendant announced that due to weather our landing would delayed. With her English not easy to understand, we thought she said the delay was for five minutes, which did not make sense — a short delay like that would not be announced.
We ended up circling over Tokyo for about an hour, in a gray soup of clouds. I joked that we were flying in miso soup. Eva said it's whiter than miso, and more like tofu. We were in good spirits, because it wasn't turbulent, and we were not in a hurry. My connection was in about 4 hours, and hers in 10, although her flight was from Haneda Airport, which is much closer to Tokyo.
Our plane was greeted by a covered stair truck and a bus on the tarmac. It's raining lightly. The bus took a long time to get us to terminal 1, and my connection was from terminal 2. Eva needed to go to Haneda Airport, but all trains and buses out of Narita were suspended then. We said goodbye at the airport bus connecting to terminal 2. 
With mobile boarding pass in hand, I rushed to the security checkpoint at Terminal 2, and was promptly stopped. They couldn't let me through, because Japan Airlines had not started checking-in that flight yet — my American Airlines flight was operated by Japan Airlines. I asked when I would be able to go through security, and was told that it's for Japan Airlines to decide.
I went to talk to people working for Japan Airlines. Eventually I found a sympathetic woman, who thought I should be able to go through security — I had no luggage to check, and I already had my boarding pass. I asked her to talk to the security line person for me, and she did, but it wasn't successful. It's just like in the movie "Lost in Translation", where a negative answer was given in a speech spanning several minutes.
One train out of Narita resumed operations, and Eva asked me, via phone messaging, whether she should take it. I told her "definitely". Her staying in Narita couldn't help me. The train was a slow one, she found out eventually, but she had time enough.
Meanwhile, I had no choice but to wait. The airport started to collect more and more people, as more flights were put in a state of limbo — they were neither cancelled nor delayed, only their check-ins were "temporarily closed". JAL is the flag carrier of Japan, and their flights dominated the terminal 2 display board, by far. Upon close inspection, all of the flights with such a remark were JAL flights. JAL kiosks were all taped over with a piece of paper, indicating that they were closed. The check-in counters were similarly closed and unstaffed.

I got a late lunch at 3:30, not knowing that that would be my last meal in some 16 hours. More wait. I join a crowd sitting on the floor of the check-in hall, looking up at the display board. There were maybe a couple dozen seats in the hall, but hundreds of people were milling around waiting for their flights. As any well designed check-in hall, there were no outlets for people to charge their phones. One had to get through security to find outlets, but they couldn't do that.
A sliver of hope went through my mind when JAL started to manually check-in some flights, first one to San Diego, then one to Vancouver. The announcement was made through the airport's PA system, but not shown on the display boards. In addition, several people in JAL uniforms, mostly female, were walking the check-in hall with tablets showing the flight numbers and destinations of the flights being checked in.
At 7:40 pm, more than one hour after the scheduled departure of my flight, the display board came alive. All of the "check-in temporarily closed" status lines got wiped at once. My flight was cancelled. Most others got some other status first, before getting cancelled. 
I called our company's travel agency. The travel agency's phone system told me first that I should consider booking online to save the company money, then that it was not yet the travel agency's regular business hours, both of which were pathetically long speeches that I wanted to short-circuit but couldn't; and then I had to listen to some more speech in order to make some choices by pressing a few buttons. After some wait, I got connected with a real person! Hooray!
I answered all the questions she posed to me, my name, my company, my birth date (yes, that too! Just in case someone was trying to impersonate me to get out of Japan, I guess), my company email ("no, not that, maybe there is another form of the company email?"), and which flight I was to take. And then, boom! She couldn't see that my flight was cancelled. I told her it was. By this time my flight disappeared from the display boards, inexplicably. She insisted on me getting some verification.
I line up at the JAL counter. I was the third or fourth in line, but the line was not moving. Eventually I was able to grab the attention of a JAL person outside of the counters, and had her confirm that my flight was cancelled. And the travel agent on the phone went to look for replacement tickets. Meanwhile, I stay in the line at JAL counter. 
While I was on the phone, the physical line I was in was barely moving. The agents at the counters had to call someone and talk a lot, before anything could be done. And, incredibly, the man in the line immediately in front of me was there to get his boarding pass issued, because he did not know how to check in on his phone — he behaved as if he's never heard of such a thing before. During the more than half an hour in line, he tried unsuccessfully to look into the phone check-in process.
Eventually the findings of our remote travel agent were that many of the seemingly available tickets were not really available, because the underlying carrier of them all was JAL, which wasn't reporting the correct flight statuses online yet. On other airlines a business class ticket, with a connection, would cost me, or my company, an extra $16,000+, and they wanted me to say it was OK. I wasn't sure it was OK. An economy class ticket would be some half of that, which was too dear also. I said no.
Finally I was served at the JAL counter. The agent found my reservation, made several calls (most were not connected successfully), and after a long time, came back to tell me that since my tickets were bought with American Airlines (AA) flight number, I had to go to them to resolve it.
After some wandering around the terminal, I found that there were American counters, but they were closed. There were a couple of men there, apparently not on behalf of AA. I talked to one of them, and was reassured that the counters were closed for the day.
I found AA's phone number online and called them. They were extra busy, the automated system said, due to some weather conditions (probably in the US). I was given the option of either holding the line or having them call me back. I chose the former, and was dropped soon after that. 
My new phone was dropping calls from time to time, for different reasons. Once my call was dropped and I was not allowed to dial again, because my phone was "not registered", meaning international roaming was not activated. And at other times calls were dropped when I was working with the phone, such as trying to turn on the screen to search for my prior reservation info, or to turn off the screen to save battery. A day later I started to suspect that maybe the power button was programmed to hang up the phone. And some 5 days later I found a way to turn that off. 
In any case, I called back and agreed to have the AA system call me back. The system told me it would be 48 to 57 minutes, or something like that. When AA system did eventually call me back, I was on the phone talking to our travel agency. I tried to switch to the incoming call, but resulted in dropping the travel agent without picking up the AA call. And they never called back.
During all this time a couple of things helped me a lot. One is a power-bank my son gave me. It didn't have enough power to charge my phone completely, but it did charge it from almost empty to half way, while keeping it running for an hour non-stop. The other is a wired headpiece. In the noisy airport, with people yapping around me and the PA system going on from time to time, it gave me a much clearer and consistent sound, while also made using the phone as a note taker a lot easier.
With one phone call after another, it finally was nearly 10 pm, or 9 am US Eastern time. By this time our normal travel agents were on duty, and the effect was vastly positive. For one thing, they knew our system, and asked for my Core-ID, instead of my birth date etc. For another, they volunteered to call AA for me. And thirdly, they worked as a team. When my call was dropped and I called back, I didn't have to start from scratch. They would know who I was and what the previous agents had done for me. This was such a time saver.
After a long time, an agent found a ticket for me. Because this was through AA, I didn't have to pay for a new ticket. I gave them my OK to issue the ticket. After some more long wait, it was done. I'd leave the next day, at 1 pm, to fly home via London, on a British Airways flight. I was elated. By now it was about 10:45 pm. I asked if they could book me a hotel. The agent told me that the nearest she could find was one near Tokyo Disney. I asked her to book it for me. She apologized to me for not having something nearer. I assured her that I was grateful that she could find anything at all, considering the number of people stranded here.
By this time all the shops have closed in the airport already, and the security checkpoint was closing as well. When the "doors" of the security checkpoint came down, they formed a solid looking wall, blending nicely with the walls of the check-in hall, and giving people who had the (mis-)fortune to watch it happen such a hopeless feeling. There was no way out of Japan through Narita anymore for the night.
It was drizzling outside, and not cold. A long line was formed at the taxi stand, more than 100 meters (or yards) long. The line moved forward from time to time, not due to people being picked up by taxis, but due to attrition. I waited for about thirty minutes, during which time only one taxi showed up. There were a few other taxis, but they were in the private cars lane, apparently to pick up particular people they were in contact with. I searched Uber and Lyft. Uber suggested Uber Black, a special service that I had never heard before, that would cost me $800 to $1000 US to get to my hotel 59 km away (less than 40 miles). I could have paid for it out of my own pocket, but I decided against it. This was highway robbery to me!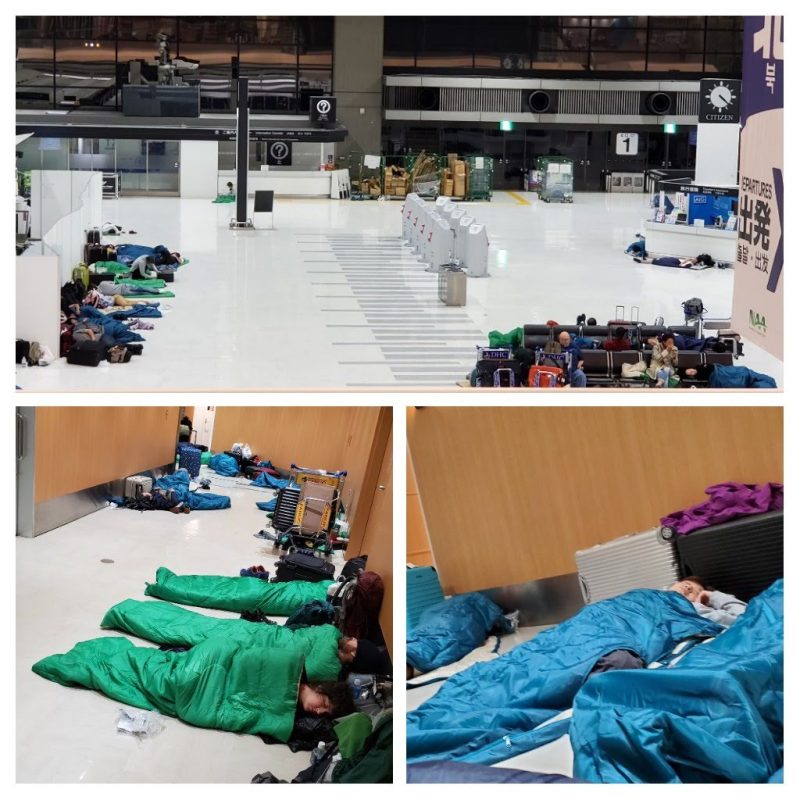 I went inside the terminal, and saw that majority of the people there had gotten sleeping bags. I inquired about it, found the place where sleeping bags were distributed — no more sleeping bags were being given out, and nobody was apparently working on it any more.
For a place to crash, I found an unmarked hallway behind the shops, leading to a pair of restrooms. There were other people there too, but there was enough room left for me. Chatter from people gradually died down as the night deepened. The only loud noise was a PA going about every 10 minutes, saying in 3 languages (Japanese, English, Chinese) that all transportation out of Narita had ceased, and ending with a "thank you" for no apparent reason. There being a pair of restrooms, every time someone moved, or maybe the light flickered, a small loudspeaker on the wall would announce, in Japanese and English, "This is the toilet. Follow along the wall to the right for the men's toilet. Follow along the wall to the left for the women's toilet." But fortunately I was able to get some water to drink from the restrooms sink — not easily, as when I withdrew my hands to stick my water bottle under the faucet the water shut off very quickly. 
After about half an hour, the PA content changed. They got more sleeping bags, and they had some crackers and water to give out. I went and got myself a sleeping bag, a packet of "Disaster Preparedness Cracker", and a bottle of drinking water. The cracker was too sweet for me, but I kept it for memory's sake.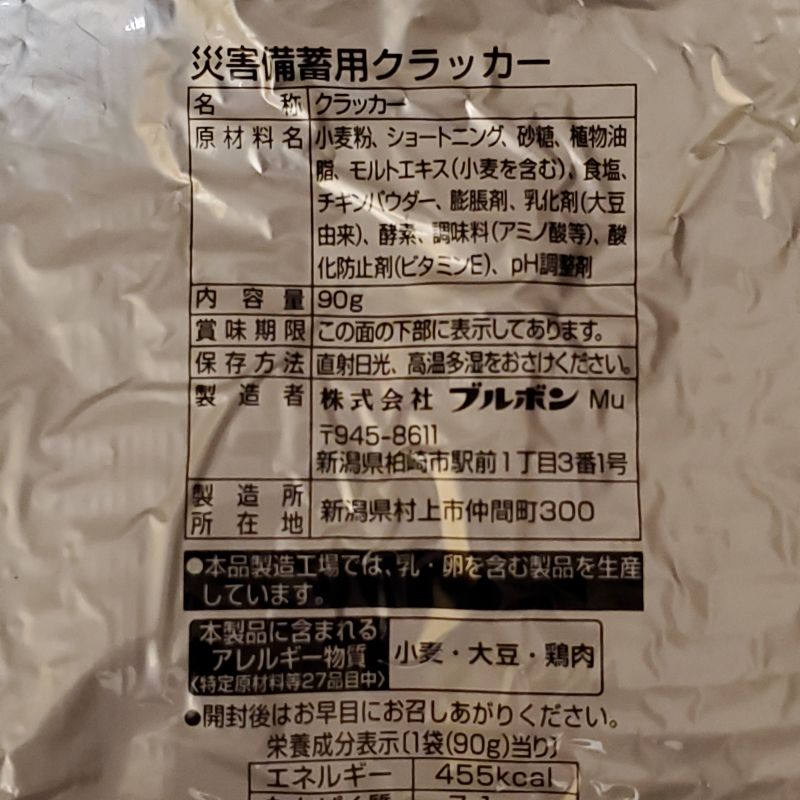 I was able to sleep on the floor of Narita airport, for about 3-4 hours.
---
I believed then, and I still do now, that JAL computer system broke down on the afternoon of October 25. But they blamed it on the heavy rain, which doubtlessly relieved them from a huge financial liability. Here I list the indications to show otherwise.
All of their counters and kiosks were closed. At the same time, other airlines were mostly operating. Was the rain particularly heavy on JAL?

All their flight check-ins were shown to be "temporarily closed" on the airport's display boards. And no other airlines displayed this message.

No delays or cancellations were shown. Even for those flights whose scheduled time had passed.

Eventually they started processing some flights, but only one by one, such as flights to San Diego and Vancouver. They never displayed these on the display board. Instead, they had people walking around the airport with tablets displaying these flights. And they put the message through the PA system. This clearly showed these procedures were processed by hand.

When the system came back alive, it was a complete revival. All flights with the "check-in temporarily closed" status were changed to something else at the same time.